Conceptual Modeling & Design Methods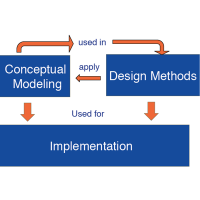 Semester:
1st Semester (September - December)
Course Description
The course starts with an introduction to conceptual modeling and design methods in the context of information system development: what, goals, principles, and an overview of existing languages, techniques and methods.
Next a number of conceptual modeling languages and techniques, as well as design methods are treated into more depth, each dealing with a different aspect of information systems.
For conceptual modeling this will be:
Object Role Modeling (ORM) for data modeling
Concurrent Task Trees (CTT) for task modeling in the context of interactive applications
Business Process Modeling Notation (BPMN) for modeling of business processes
Example of a domain-specific modeling language
As design methods these will be:
User Interface Design
Web design
Database design
Furthermore, the topics of meta modeling and quality of models and modeling languages will be discussed.