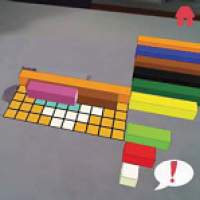 Despite the high number of educational games released, only a few games have a strong story that is more than an excuse for players' actions. Furthermore, even fewer story-based games utilise the affordances of augmented reality (AR) to concretise abstract concepts while engaging players.Based on our literature review, we were inspired to merge AR into a story-based educational mobile game for teaching fractions to elementary school students. The game Tales & Fractions was created through a two-phase multidisciplinary development process. In order to successfully integrate AR into a story-based educational game, we employed an adapted version of the Scrum agile software development method implemented by a multidisciplinary team of experts from computer science, pedagogy, design and arts. During the development process, we faced many issues that other story-based AR game developers could meet. We summarised the encountered issues with our solutions which could be useful for developers to avoid common pitfalls and to enrich the user engagement.
Publication Reference
Kim, J. C., Lindberg, R. S., Laine, T. H., Faarinen, E. C., De Troyer, O., & Nygren, E. (2019, November). Multidisciplinary Development Process of a Story-based Mobile Augmented Reality Game for Learning Math. In 2019 17th International Conference on Emerging eLearning Technologies and Applications (ICETA) (pp. 372-377). IEEE.