Research Projects of pejman sajjadi
TrueBiters
(Ongoing)
The logic course in the 1st Bachelor Computer Science at our university is since years a stumbling stone for the students. On average less than 30% succeed in the exam on the first try. Dealing with the formal and abstract language of logic is hard for most students. They easily lose interest and exhibit procrastination, and after a while they are completely lost. We tried to remedy this behavior in different ways but didn't succeed.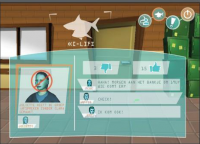 Friendly ATTAC - Adaptive Technological Tools Against Cyberbullying
(Finished)
Friendly ATTAC will study and develop an innovative ICT tool to help youngsters deal with cyberbullying issues. By means of highly personalized virtual experience scenarios, providing players with immediate feedback in a safe computer-mediated environment, we will attempt to modify relevant determinants of behaviours related to the roles of bullies, bystanders and victims.
CAdE-games - Toward Cognitive Adaptive Edu-games
(Finished)
A first purpose of this project is to investigate the cognitive processing involved in educational games and its impact on learning. The second purpose is to investigate how we can influence these cognitive processes by using adaptive techniques. Among others, we investigate the impact of the personality, the learning style, as well as the motivational aspects of learning by manipulating different aspects of the educational game.